I'm going to try and do this new thing once a month. I just think it looks like a fun thing to do. So here it goes!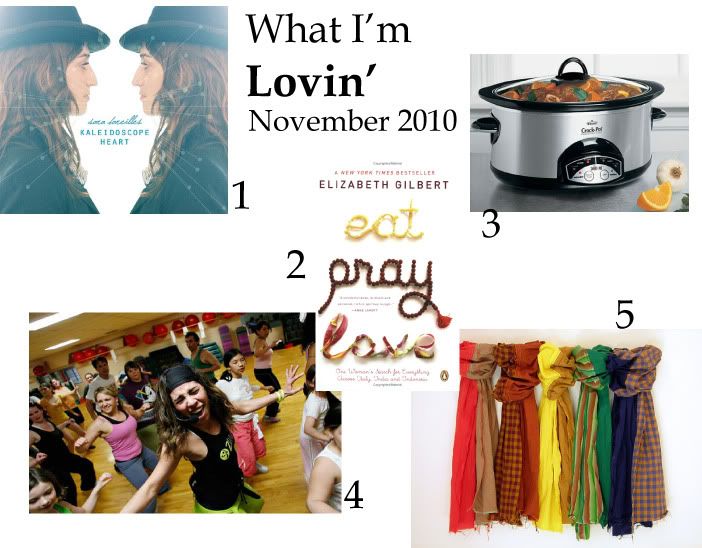 1.
Sara Barielles
: I think that something weird happened in the heavens, because I'm pretty sure I'm supposed to be her in this life. She is SO great. Her music (especially this CD) is FANTASTIC! I bought it a couple months ago and haven't taken it out of my car (except to upload it onto my computer) and I keep listening to it all the time. At work, in my car, at home, on the go... just ALL THE TIME! If you haven't heard it yet, then listen! My favorite song is #9, Let The Rain!
2.
Eat Pray Love
: Okay, so I've been reading this book for a very long time. Several months to be exact. But I really do enjoy it! I think maybe the reason it is taking me so long to read is because I want to do what she is doing in the book! Just traveling/living in different countires for 4 months at a time. How cool is she?
3.
Crock-Pots
: Wow. I love them. SOO much! My favorite recipe for the crock-pot is a Jalapeno Roast. You should make it sometime. It's probably one of the best things I've ever smelt, looked at, eaten, felt and touched EVER! Seriously. I can't find the recipe right now, but I'll post it later so you too can enjoy it!
4.
ZUMBA
: Okay, Zumba is SO fun! And gosh, it is a workout! I never sweat ever, but in that class I SWEAT! (TMI? Who cares..) The majority of the people in the class I go to are white, and don't have the latin dance gift, so it's even more enjoyable. Not only is it a workout, but it's a great source of entertainment! You should go!
5.
Scarves
: I just LOVE them! I want to wear one everyday, but that might be over-doing it a bit. They are just so fun and such an easy way to add color and fun to an outfit!